MWC
other Bundy versions

As far as I know there are three series tried to "copy" MWC. One of them is running in Turkey, one aired in UK and the other one in Brazil.

UK:
"Married for Life" with Russ Abbot as "Ted Butler" was a MWC-Clone produced by the ITV. It was shown in 1996.
Only 7 episodes have been produced.

Short Clip (36 sec. .rm-file 700kb)

Turkey:

Mwc was shown on Cnbce(turkish tv station).Married... with Children is broadcasted in Turkey as "Evli ve Çocuklu", which is simply a translation of the original title. There is also a 2004 adaption of the show with the same name. The Bundys are called Tonguç. The premiere took place on January 16, 2004, on Kanal D.(turkish tv station) The series airs on Fridays at 22:00 with two episodes in a row.There is also an official site about the series.

| | | |
| --- | --- | --- |
| Original Character | Turkish Character | Turkish Actor |
| Al Bundy | Niyazi Tonguç | Ege Aydan |
| Peggy Bundy | Jale Tonguç | Yildiz Kaplan |
| Kelly Bundy | Tugba Tonguç | Duygu Yetis |
| Bud Bundy | Efe Tonguç | Ozan Ugurlu |
| Marcy Rhoades | Rana Mana | Mihrace Yekenkülüg |
| Steve Rhoades | Selçuk Mana | Tugra Kaftancioglu |
| Luke Ventura | Selim | Murat Serezli |
Thanks for this informations fly to: Hakan
We see the typical bundy couch and as we see they tried to copy the original MWC-Set.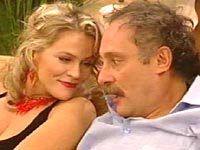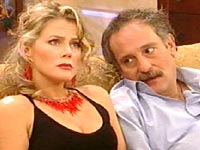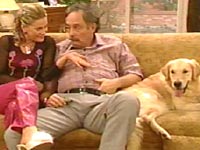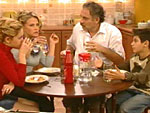 Brazil:
The show is called "A GUERRA DOS PINTOS" (engl: "the war of the pintos").

The Pintos are shown every Saturday between 20 and 20:30 in the Brazil TV (I don't know if they still show it). They are like the Bundys.
Some identical facts: the family, the couch, Ze is shoesaller, the house ,Marcy ,the dog,..... a real copy of the original